UTM SPEAKS UP COMPETITION (2021) RESULT ANNOUNCEMENT
UTM Speaks UP Competition
This competition is a platform for UTM postgraduate students to demonstrate speaking skills and use their verbal and non-verbal communication skills to provide information, convince and inspire and entertain the audience.
Its expose students to the practical skills and knowledge needed to express themselves clearly and confidently in English and to cultivate students' confidence to interact more effectively and as a preparation in facing Proposal Defends, VIVA even to face the real world of work that requires effective communication skills.
This competition is divided by TWO categories; Master & Ph.D.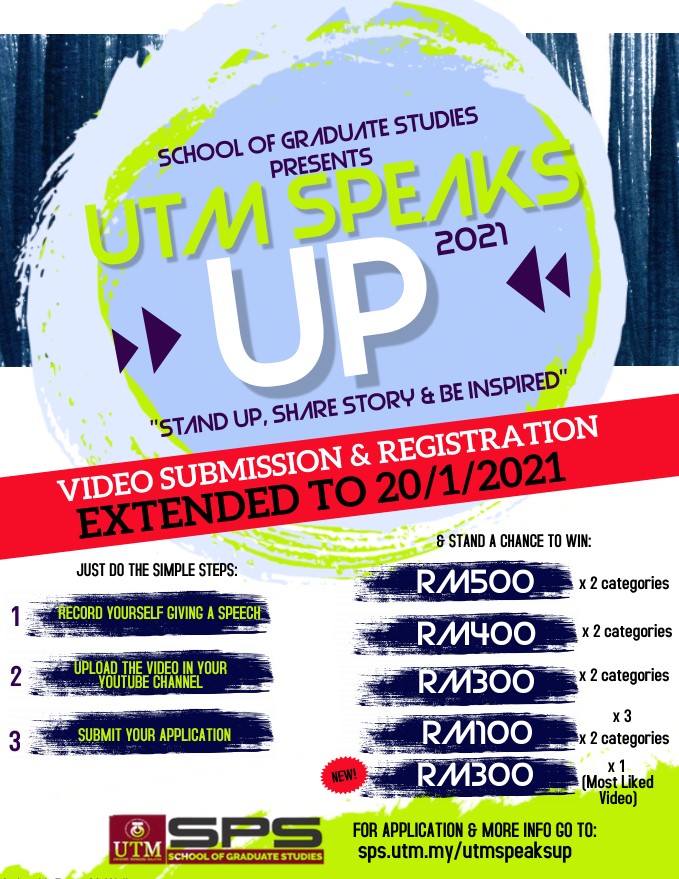 Participate now and stand a chance to win the Cash Prize!
There is an additional category which is the Most Liked Video in YouTube.  The decision also consider an engagement (comments and views) of the video. 
The winner will receive RM300.00 as a cash prize.
Disclaimer: The organizer's judgment is final and no complaint or appeal in all means will be entertained.
ELIGIBILITY, RULES & REGULATIONS
ELIGIBILITY
This competition is opened to all UTM Master & Ph.D Students.
RULES & REGULATIONS
UTM Speaks UP Competition is an open-themed public speaking competitions (topics in categories; persuasive speech, an inspirational speech, or an informative speech).  The theme for the speech should avoid sensitive issues such as (but not limited to):
Religious Issues,

Political Issues,

Racial Issues,

Gender and Sexual Innuendoes,

Offensive Language.
Participant need to make a speech presentation in video recording within 2 to 3 minutes.
Students need to deliver a speech presentation in English.
Participants must adhere to the dress code of UTM students during the video recording.
Participants need to fill in the application form and upload the video into the YouTube channel within the stipulated time.
*Please follow all the rules and regulations to avoid marks being deducted. 
The video must meet the following criteria:
Video duration is 2 to 3 minutes.

No Power Point or electronic presentation.

No special effects editing.

No additional actors.

No background music (unless it is related to a topic).

Ensure the recording quality is at a good level (Clear Voice & Expression).

The video must be uploaded to the Personal Youtube Channel.
The video will be evaluated based on the following criteria:
General Appearance, Poise, Posture

Voice (Pitch, Volume, Speed, Tone, Pronunciation, Audible, Enthusiastic, Speaker captures and retains audience attention)

Speech (Well organized, logical order, Introduction, body, conclusion, up to date, accurate and relevant information, sticks to subject, adheres to time limits

Use of Language (Appropriate word choice, clear, correct phrasing, use correct grammar)

Expression (Appropriate gestures and body language)
The video submission and registration has been extended to 20/1/2021.
Kindly register through this LINK or directly register via google form as below:
"Register Now! This competition only require a simple steps:"
1. Select a topic.
2. Prepare draft of Speech.
3. Record your Video Speech.
4. Upload the video in your YouTube Channel.
5. Register in the google form as above.
Send your email to graduate@utm.my