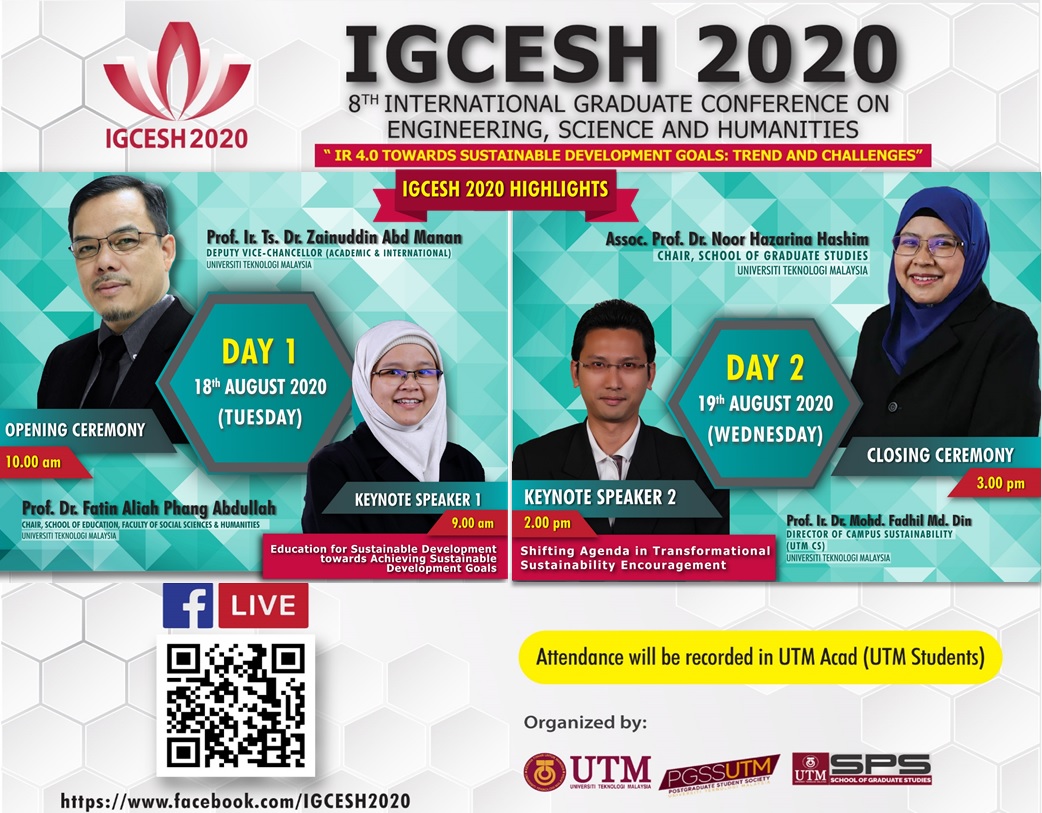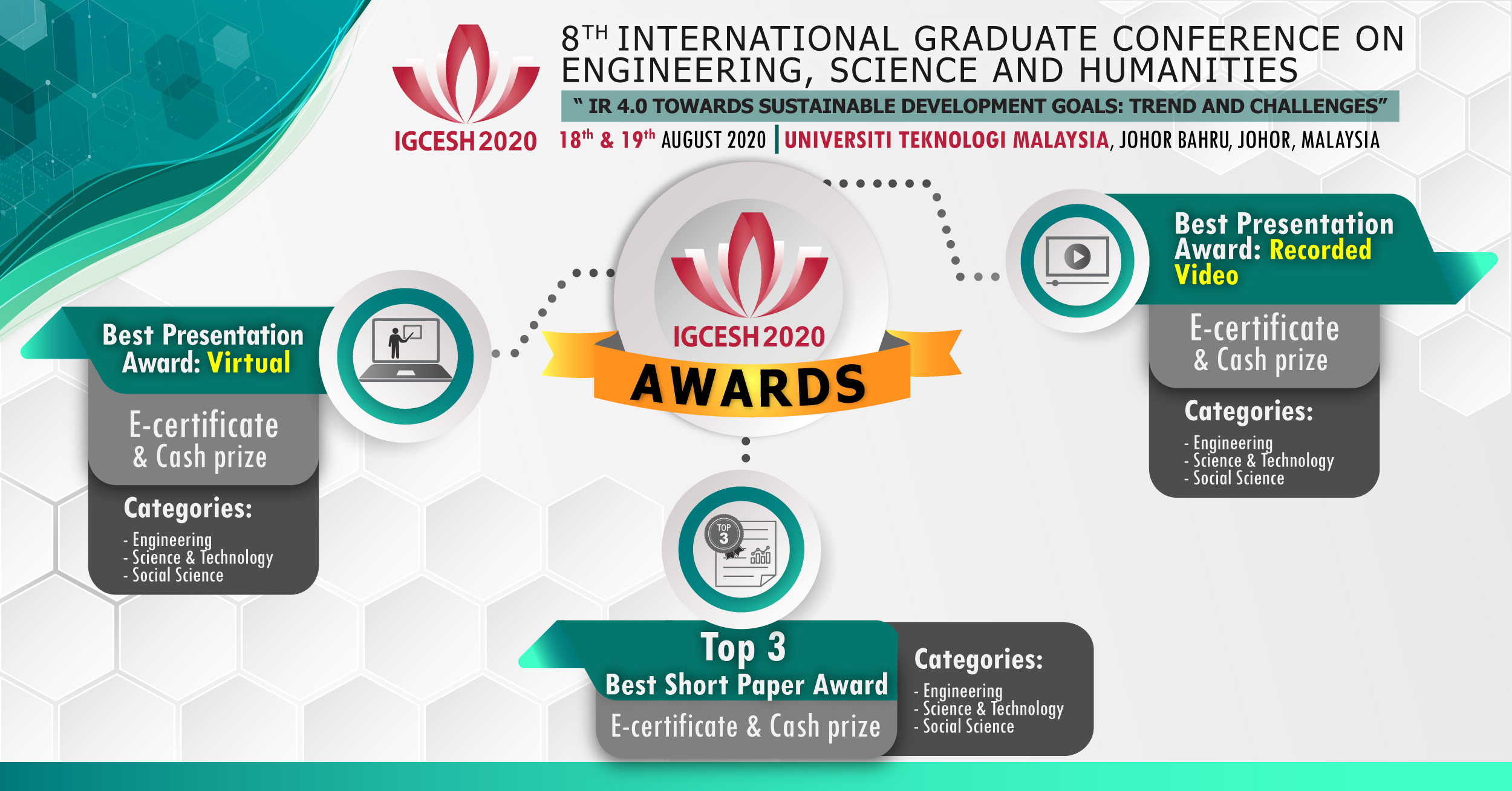 Learn more about awards at https://sps.utm.my/igcesh2020/awards/
International Graduate Conference on Engineering, Science and Humanities (IGCESH) is a biennial postgraduate conference organized by the UTM Postgraduate Student Society (PGSS-UTM) in collaboration with the School of Graduate Studies UTM. It is our great pleasure to announce the 8th International Graduate Conference on Engineering Science & Humanity 2020 (IGCESH 2020) is going to be held in the Universiti Teknologi Malysia (UTM), Johor Bahru located 320 km south of Kuala Lumpur, Malaysia from 18th to 19th August 2020.
IGCESH 2020 provides a forum for accessing the most up-to-date and authoritative knowledge from graduate student's research findings covering both industrial and academic world's thereby sharing best practice in the fields of Engineering, Sciences and Humanities. The conference will provide an avenue to highlight recent developments and to identify emerging and future areas of growth in these exciting fields.  All extended abstracts (after reviewing process) will be published in the Conference Proceeding. Selected papers will be published in high impact journals (EXTRA FEES REQUIRED).
All postgraduate students are invited to share their latest research findings to this conference. The papers on original works are solicited on a variety of topics, including but not limited to the following conference tracks:
Engineering: Electrical, Civil, Chemical, Mechanical, Biomedical & Engineering Education.
Science & Technology: Science, Computing, Built Environment, Geo-information & Real Estate.
Social Science: Management, Education, Business, Islamic Civilization, Language & Marketing.
All presentations will be evaluated by a panel of judges. Awards will be given to the top three best paper in each of the three tracks (Engineering, Science & Technology and Social Science). Selected papers will be Published in the high impact Scopus Journals. Only the papers presented in the conference will be considered for Scopus publication. List of Journals are as follow:
Science, Technology & Engineering
International Journal of Quality Research
Journal of Applied Science and Engineering (JASE)
Journal of Advanced Manufacturing Technology (JAMT)
Malaysian Applied Biology Journal
Thailand Statistician
Pigment and Resin Technology
International Journal of Advanced Trends in Computer Science and Engineering (IJATCSE)
International Journal of Innovation, Creativity and Changes
International Journal of Technology
Malaysian Journal of Fundamental Applied Science (MJFAS)
MATEMATIKA
Social Science
Universal Journal of Educational Research
International Journal of Psychosocial Rehabilitation
Note: The deadline for extended abstract submission of IGCESH 2020 is opened. Those who wants to submit extended abstract, IGCESH 2020 is looking forward to your participation and hope to see you on conference day.
* early bird registration and payment will enjoy a discount rate as detailed
If you have any query please do not hesitate to reach us by email: igcesh2020@utm.my