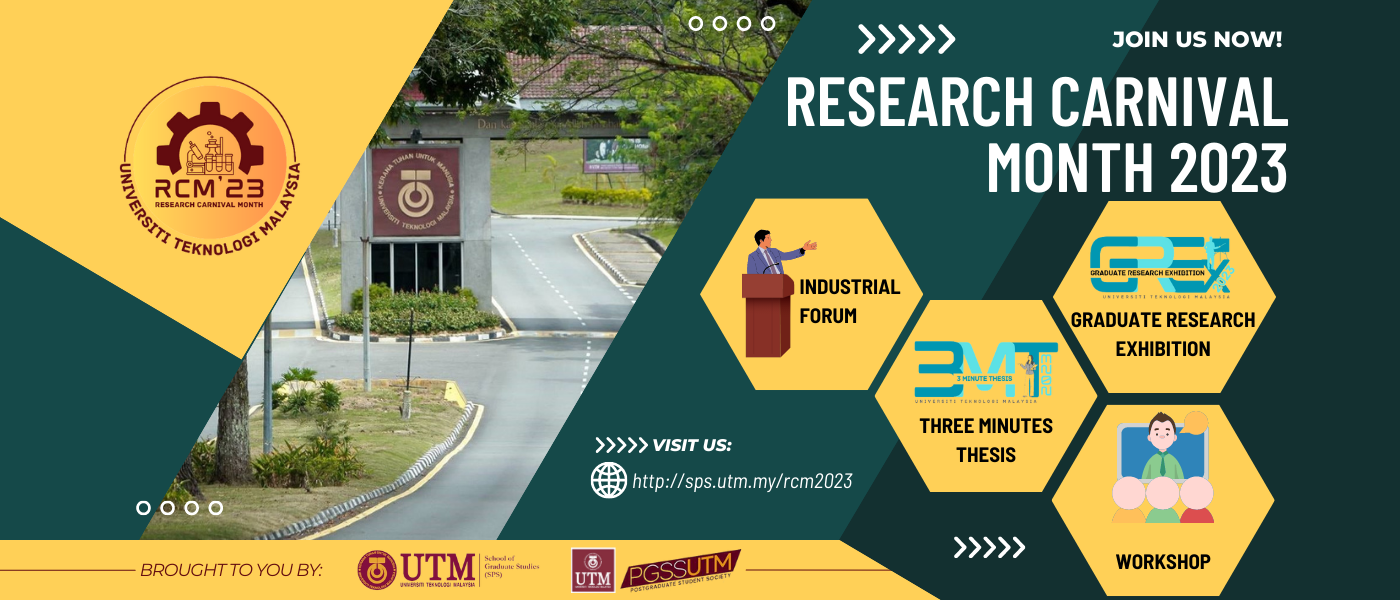 GrEx 2023 List of Winners
Rewatch our Closing Ceremony here!
Research Carnival  Month 2023 (RCM 2023)
The Research Carnival Month (RCM) is a platform to experience and learn about the diverse nature of research at UTM. This event includes a variety of activities running throughout the weeks including 3 Minute Thesis (3MT), Graduate Research Exhibition (GREx), Academic Workshop and Forum (Industry-focused).
RCM is organized biennially by UTM Post Graduate Studies (PGSS) in collaboration with the School of Graduate Studies (SPS). The first RWC was initiated in 2019 and has been participated by 225 UTM Postgraduate students. This year, RCW is then being rebranded with Research Carnival Month (RCM) and will take place on April 4 – May 16, 2023.
1
Holistic approach to Quality Graduates
2
Nurture and polish students' skills to present the results the research conducted
3
Assess the understanding of the research students' understanding and ability in delivering their Master's and PhD students
4
Encourages and stimulates the research activity by UTM Research students
5
Develop innovative knowledge exchange and research discoveries
6
Improve the attitude and calibre of UTM's research students and graduate on time
" Nurturing the research skills for the sustainable technology industry "