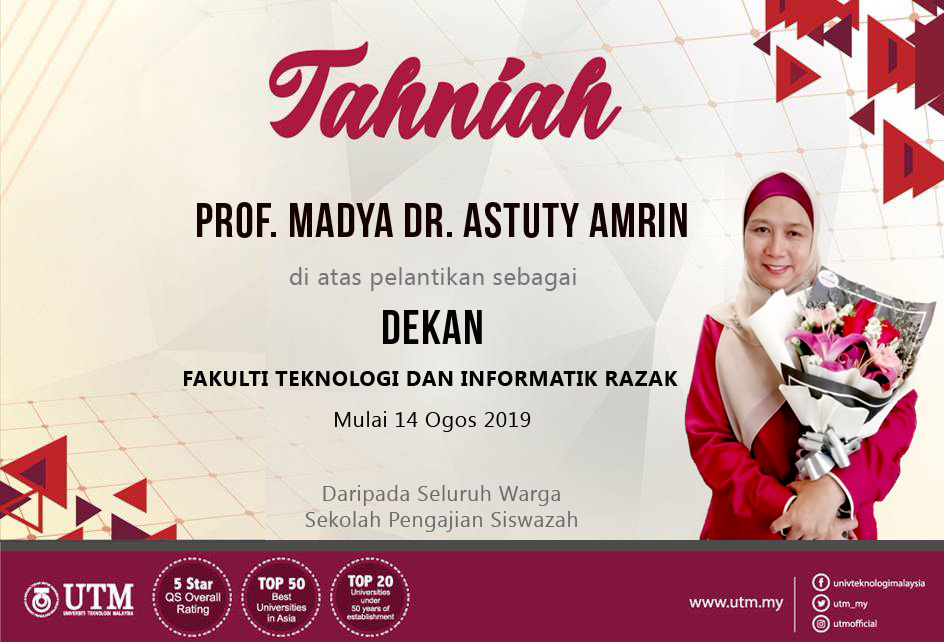 Congrats Dr Astuty

Learn about the Tuition Fees, Scholarships and Financial Assistance Associated with our Postgraduate Programmes
Dear All, SPSS is the data analysis package of choice for people wanting to analyze quantitative data. However, most practitioners find dealing with quantitative data quite daunting. Although most practitioners are quite comfortable with qualitative research methods...
read more
Events | All Events
There's always a lot interesting things going on at the School of Graduate Studies. Learn about what events are coming up on campus.
Universiti Teknologi Malaysia on Instagram
UTM Library
The library occupies a central location at the Universiti Teknologi Malaysia (UTM) main campus in Skudai.
It has a branch at the UTM Kuala Lumpur and also branches at several faculties, learning centres and Centres of Excellence.
Having issues or need further clarification related to your postgraduate studies in UTM? Fret not. At SPS, we strive to give the best support to our students. Feel free to ask our dedicative staffs for help.
Scholarship
Nor Haidah Ramli
Assistant Administrative Officer
Phone No: 07-553 7769
Email: norhaidah@utm.my
Research
AKMALINNISA BINTI MD HIDIAH
Assistant Administrative Officer
Phone No: 07-553 7599
Email: akmalinnisa@utm.my
GSMS & IT – Related
Muhammad Azizi Omar
Assistant IT Officer
Phone No: 07-553 7841
Email: azizio@utm.my
Best Postgraduate Student Award
30,873 views
UTM Student Life28,430 views
SCHOOL OF GRADUATE STUDIES,
UNIVERSITI TEKNOLOGI MALAYSIA,
UTM JOHOR BAHRU,
81310 JOHOR MALAYSIA.
Phone No: +6 07 5537893 (admission)  +6(07) – 5537769/ 37794 / 37889 (academic)
Fax : +6 07 5537800/ +6 07 5537592
E-mail : graduate@utm.my
Postgraduate Programme:
Phone : (6) 07 – 553 7891 / 7814 / 7895/ 7904/ 7900
Email : pgrad@utm.my
Operation Hours :-
Sunday – Wednesday  
( 8.30am – 12.30pm )
( 2.00pm – 4.30pm )
Thursday
( 8.30am – 12.30pm )
( 2.00pm – 3.00pm )
Rest Hour    
( 1.00pm – 2.00pm )